ERGONOMICS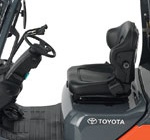 Easy to use operator controls
Large ergonomically designed step for easy on/off
11.8" diameter two-spoke steering wheel
Heavy-Duty non-slip rubber floor mat
12" long dual operator assist grips
4-Way Addjustable full-suspension Toyota Genuine Seat
PERFORMANCE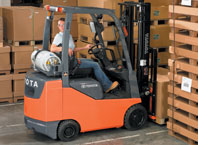 48 Horsepower
20% Thicker Side panels
100% Committed to your business
According to recent studies by Peerless Research Group, more and more forklift owners plan to keep their forklifts for 10+ years! Just like a car, truck or other motorized asset, periodic maintenance, service and upkeep is required, even under normal operating conditions, to keep your Toyota Core IC Cushion Forklift operating to peak performance. It is not uncommon for Toyota forklift owners to well exceed 10 years of use, as long as the forklift is properly maintained. Paired with a Planned Maintenance (PM) Plan, the Core IC Cushion Forklift can be an asset for your company for years to come.
EASE OF SERVICE

Easy access no-tools floorboard
Engine hood assist damper with lock device
Air cleaner discharge valve
Externally mounted hydraulic oil return filter
Dash mounted brake fluid level check
SAFETY

System of Active StabilityTM (SAS)
Active Mast Control (AMC)
Bolt-on overhead guard
Key lowering interlock
Electric horn
Asbestos free components
DURABILITY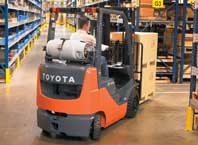 Left & Right side entry/exit
Dual wire braided hosing
Large ergonomically designed step for easy on/off
Swing out LPG tank bracket
Welded steel axle
Rear assist grip with horn (option)
OPTIONS
T-Matics Vehicle Management System Allows the operator to view all pertinent information that relates to the truck and its functions.
Toyota Integrated Sideshifting Scale The system allows operators to easily and quickly capture Legal-for-Trade weight data en route, without extra steps.
Cascade Sideshifter w/Bronze Upper Bushing Standard Cascade sideshifter is supplied with upper and lower bushings made of bronze.
Mini-Lever Controls with Ergoshift Features a three-way adjustable armrest to enhance operator comfort and productivity. Mini-Lever Controls with Ergoshift
LPG Swing Down Bracket Swings the bracket to 65 degrees down from the horizontal position.
Steering Wheel Knob Steering wheel is equipped with an assist knob. Allows convenient operator maneuvering of forklift.
EZ Pedal Allows operators to quickly and easily change travel direction without removing hands from steering wheel or hydraulic controls.
CNG Powered Cleanest fuel type offered for the IC forklift line.
SPECIFICATION CHART
| | | | | | |
| --- | --- | --- | --- | --- | --- |
| 8FGCU20 | 4,000 | 10.6 | 124 | 36 | 92.8 |
| 8FGCU25 | 5,000 | 10.6 | 124 | 31 | 94.3 |
| 8FGCU30 | 6,000 | 10.6 | 102 | 25 | 97.5 |
| 8FGCU32 | 6,500 | 10.6 | 102 | 25 | 98.8 |
* Based on 24" load center.
** Add load length and clearance.